What I Love About the Art I Do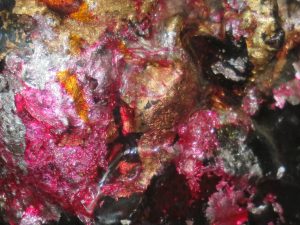 For this blog, it's more personal, about my passion for art and what I love about my art and what I do.   Sharing a little of the personal me.   : )
Colours, emotion & feeling
For anyone who knows me I'm a colour girl.  I wear bright colours and my home has lots of bright colour in it.   For me, colour says more than what a piece is about, it elicits an emotion.   Think about dreary overcast days.  On these days, I will always wear something even brighter (if that's possible) and not only do I feel better, but those I see are affected by the colour I radiate.  So goes the same with my art.  I almost never work in monochromatic tones (black, greys and whites) because of my passion for colour.   My pieces radiate an energy and passion, borne of vibrant colours.
Texture
Whilst working with watercolours is fun and the results often incredible and inspiring, I choose to work in mixed media because of the texture that can be achieved.   I've worked with a few different products which all have interesting effects.  Sand, robe, plaster of Paris, no more gaps, even leaves and twigs … it all adds interest, depth and uniqueness to each piece.    Of course, the resin finish protects, seals and adds its own dimension to my work … the finish in itself is even part of the piece.
Creativity
As quite a detailed person who worked in business and accounting for so long, the concept of 'trial and error' or 'see where the brush takes me' should be very foreign.   When I start a piece, I draw it out and have a very relaxed and loose plan.   I let the paints brush in many ways lead me along the artistic journey.   That might sound a little convoluting or vague (or possibly a tag eccentric) but I am being honest.   I essentially 'go with the flow' which means in many ways, that each piece creates its own destination and no two pieces will ever be the same.   Hmmm – comes back to that word – unique!
Art should be fun, so have some fun with it.  Trial different things, be creative, and see where the journey takes you.   : )
Check out some of my art pieces for sale.
Read this article Benefits of Having Art in the Workplace.