Benefits of Having Art in the Workplace
Benefits of having art in the workplace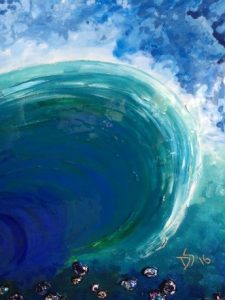 There are many strong benefits to having art in the workplace. Let me share a few thoughts with you.
Many businesses will put up a wonderful piece of art in their reception area. This is a great idea; it makes the reception area appealing, inviting and often gives a strong impression of success. For first time visitors, this is the first impression, which of course we can make only one of.
However, often businesses will stop at the reception area, or the Senior Partner/Founder/Owners office. What about all the other rooms in the business?
Read What to Consider When Choosing Art for a Room.
One of the greatest drawbacks of being an office employee is getting confined inside a monotonous workplace. Aside from the recurring job routines, the idea of getting wedged within four dowdy walls seems to be flagging and is apparently one of the reasons employees are getting more and more unproductive. Particularly some rooms (Accounts is often one) the space is incredibly small, and boring walls with pricelists tacked onto them, do nothing to make an employee want to be there. For many workers, getting out of the workplace at the end of the day is such a life breather, while others cannot seem to wait for the next holiday to come. Although the legendary "all-work, no-play" cliché brings so much truth in this matter, there is another way to improve and add little bit of sunshine to the situation to maintain sanity in a tedious working environment. That is the introduction of art in the workplace.
Art is fundamentally an important factor that inspires people. Establishing arts in the offices is not only good for the interior surrounding but increases the quality of life, in general. Having beautiful arts displayed in the workplace can enhance creativity and motivation among employees. Innovative art can influence employees to become equally ingenious with their production. It can also constructively help in reducing stress by widening their admiration and lessening boredom by enhancing their self-esteem. A modest increase in an employee's efficiency and productivity can convey a significant boost to the company's overall production.
Bringing in art as part of the company's interior improvement does not only enhances aesthetics but also by and large abet in conveying the image, identity, and values of the company to its employees, partners, and clients. An excellent choice of fine arts that can display the company's spirit and character is an expert way of establishing a lasting impression to its prospects and connection to its associates.
In another aspect, as an alternative to picking different pieces, art is an exceptional substitute to perk up spatial properties of a spot. A beautiful piece of art can brilliantly define a blank space. Walls and lobbies can strikingly transform into art galleries, as well. A well-placed art can also become vivid focal points for mess halls, lounge areas and waiting rooms. Board rooms that display unique and meaningful arts can turn out to be mentally stimulating atmospheres that can produce gracious gatherings and optimistic discussions. But why stop there? Why can't the mail room, or the warehouse or the loading docks have art? The style or theme may vary, but why send the message that only the boardroom, reception are and the boss' office are the only important work areas?
There will be no uncertainties in corroborating arts in any workplaces because it is the current trend. To keep up with the modern times where dull, traditional working atmosphere are out and innovative, cool environment are in; it is just perfect that companies should initiate in creating an exciting and fun setting for all its occupants.
Art also doesn't have to equate to big dollars. There are tons of talented artists that can produce noteworthy fine arts but are not heavily priced. In addition, they cannot only be purchased out-and-out, but can be rented more affordably with a lot of benefits including installation, maintenance, and insurance. Renting sometimes also allows you to vary the pieces on a semi regular basis.
Another option also is custom pieces. Many artists (myself included) are often prepared to create custom pieces based on parametres such as size, budget, colours, medium etc. You need only ask.
You see, creating a happy workplace is not at all tough or costly. Remember that happy workers are more productive, absent from work less and overall improve the business' bottom line profit. Take a walk around your business premises this week with fresh eyes. Are there rooms there which are small or boring and don't excite you? The answer is art.
Written by Donna Stone – Artist & Blogger
Check out Donna's business blogs at www.donna-stone.com.au/blogs