Unique and Different Christmas Gift Ideas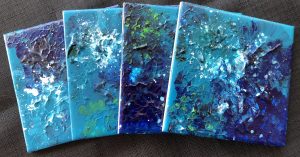 As we lead up to Christmas with a few weeks to go, the big question (well, there are a few) is "What do I get so-and-so for Christmas?"  It's always a hard one to find gifts for people, so thought I'd put my thinking cap on for you.  Yes, you can go with the usual gift card or voucher, but that's quite impersonal, you may as well pop some money in an envelope.
Here are some thoughts for unique Christmas gifts ….
For the person who 'has everything'
Well, the truth of the matter is that they probably don't have everything, but I get it, they have a lot.  This will be a little harder and you will need to be observant.  What do they like doing?  What is their interest?  A rare gift doesn't have to be expensive, but it certainly should be unique or consider something which is not unique, but by personalising it becomes unique.  For example, a low-cost item might be a t-shirt with a photo of you both on it or a great photo of your friend.  It might be a quote you know your friend or family member loves – again put onto a t-shirt or tea towel to make it something unique and personal.
Animal lover?
Considering a gift for someone who is an animal lover and adores their pet?  What about a pencil sketch of their fur baby?  As an artist, this is something I do – I sketch animals – specifically (and only) dogs.  My dog 'pawtraits' are completed in a couple of days once I receive the photographs and then mailed to you as flat.  You can select a frame and give as a gift which is unique, personal and something they are likely to treasure for a long time. Check out this page.
A lady can never have enough jewellery
The great thing about jewellery is that it can be worn with other pieces.  You can wear multiple bangles at once, even a number of rings on a single finger.  However, again, be observant and buy what the person is likely to wear.  If they wear only gold, then don't buy them silver.  When you are shopping for someone else, don't buy what you like, buy what you honestly believe they would like.  We all have different tastes and whilst one person would love big statement earrings, the next person would value petite, elegant ones.
Green thumb options
Plants are always a nice accessory to any home.  Personalise your gift a little more by buying a nice pot and a lovely plant to go in it and build the gift yourself.  Some nurseries will give you great options, but for something really unique you will have to put it together yourself.  If the person you are buying for likes to cook, what about a planter with a few herbs?  Just be sure to put the labels back in the new pot – I forgot one time for a friend who asked how to care for the plant.
 Art which doubles up as a drink coaster
An original piece of art would be a fantastic gift, but can sometimes be out of the budget – especially if you have quite a few gifts to buy.  However, something which is unique, original, artistic and falls within most budgets is my set of four drink coasters which are all original pieces of art.  My coasters are all originals, hand-painted and finished with a shiny gloss finish.  Each set of four sticks to a theme, but each and every one of them is just a little different, so even within a set, no two are exactly the same.  Check out this page.
And for the men …
I can remember growing up and the typical gift for a man (especially a Dad on Fathers Day) was a "tie, sox or jocks".  As we got older, a good bottle of Scotch was an alternative.  If your man has a sport or hobby, you might be able to supplement that, but more often than not, they have everything they need.  So, what do you get?  Firstly, think carefully about the man you're buying for.  Would he value an old book?  Does he have a 'man-cave' and a drink dispenser would fit in nicely?  Has he a bit of a sense of humour and sock or boxers with his (or your) face on them be considered fun?  Does he write a lot and a quality pen be greatly appreciated?  Again, think about this as many people are switching to tablets and iPads, but just as you cannot have enough jewellery, I don't think you can have enough quality pens.  Is he into technology?  There are heaps of gadgets online.  If he's into fishing, is there a cool new gadget out there?  Perhaps talking to one of his fishing mates for ideas might help; they will likely know what the "I wish I had" item would be.
Hampers custom-made
Whilst you can buy many hampers in stores and online, why not consider making your own.  Simply get a box or basket and fill it with things the person is likely to like, use and appreciate.  A good bottle of an adult beverage, along with savoury and sweet ideas, mini puddings or Christmas cakes and other goodies you know they will enjoy.  If you're catching up with a family member a fair bit before Christmas, including cold items in there, such as a Christmas ham, would certainly go down well.  Have fun decorating your hamper with ribbons of gold, green and red.
Rather than giving you a list of 101 gift ideas and just listing everything and anything, what I want you to do is think about the person.  What colours do they like?  What is their age group?  Are they more traditional or very modern?  Gender, of course, plays a part.  In fact, it's often a great idea the few months leading up to Christmas to start a list of everyone you need to buy for, and then begin jotting down ideas.  Thinking of things last minute is hard, but with a bit of planning and thought I'm sure you'll come up with something.  So, wishing you a Merry Christmas and may your New Year be prosperous and fulfilling. 🙂
Read Benefits of Having Art in the Workplace.