How to Select Art to Buy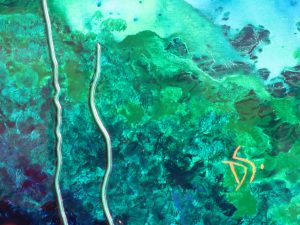 For some, it can be a hard decision on what to buy.   How do you come to that decision?   What are the factors you should consider when buying art pieces?
Here are my tips for you on how to select an art to buy:
Passion
First and foremost, I believe you should be buying your own based on what you love.   If a piece 'talks' to you, engage you, motivates you and elicits a passion, then that is the most important thing.   However, you should first consider why you are buying it.   If it's to be a collector's piece, more as an investment, then you will do your research on the artist.   A few years back I purchased some Pro Hart pieces – more as an investment, less about the love of the pieces.   Certainly, the pieces are very nice and I know absolutely the taste of some people.   If you are buying for another person, be sure you know their tastes and likes.   Remember you are buying for them, not for you, so try not to be affected by your personal preferences.   Firstly, know your purpose, then where appropriate be passionate about the piece.
Set a Budget
Let's be realistic.   If you can only afford a few hundred then that is your budget.   Keep in mind also that sometimes artists will be a little flexible with the price.   I think of art like real estate.   The asking price is not always the closing price.   You can only ask.   Yes, some artists may be offended, however, some will not and will be happy to negotiate.
Quality
Most professional artists will use quality products, paints and canvasses.   By having a thicker canvas frame with stronger support studs, it allows the piece to not in any way warp.   Whilst I pay a lot more for each canvas, I know the quality is there, as is the durability.
Colour
I am a huge colour person.   Colour is such a massive part of my art; I cannot dismiss the importance of colour and making sure it's right.   If you have a room which has a certain colour scheme, then your art should in some way match or compliment the colouring, not conflict with it.   Now by conflict, I mean colours that just should never be seen together – perhaps the best I can think of top of my head would be green and orange.   I envisage those two colours together and cringe.  However, contrast is a totally different concept.   Imagine black and red – they are colours which contrast beautifully to often make a very powerful statement.   By all means, make a statement, but please don't make a mess.
Where is it going?
When buying a piece, have an idea of where you would put it.   That will be relevant to the colours, size, style, feel.   If you live by the water, then you may wish to have a water theme or blue/green colouring.
Don't clutter or overstuff
Whether it's a wall or some pieces on a mantle or table, don't overdo it.   One should not feel they are walking into a gift store stuffed full of delightful pieces to buy.   Allow each piece (painting or otherwise) its space to 'shine'.    For myself, being an artist, this is probably the hardest advice I can follow.  I don't have any pieces at all along the hallway.   There is lots of wall space there, but it's a narrow space which would not allow anyone really the opportunity to appreciate anything.   This area is an 'eye resting zone' which allows then other rooms to be appreciated.   Have some 'white' areas to allow the eye to rest and then it can appreciate even more those wonderful pieces which are your pride and joy.
Original & Authentic
Many times you can buy printed canvas which is not an original.   An original painting has been printed onto canvas and framed.   Some of these are very pretty but know they are not original and potentially there can be thousands of this print all over the place.   For this reason, they are very affordable.   Sometimes they run a limited run, perhaps 75 … so the one you are viewing might be labelled 5/75 (which is fifth of 75). An authentic original is a once off.   It is unique and for this reason more valuable; you are not going to see it anywhere else, other than on your wall.  All my pieces are once off originals.   Given the style I do (mixed media) no two pieces will ever be the same.
The biggest message I can give you is to buy what you like and what gives you pleasure.   Whilst some planning and preparation (deciding on colours, or locations, size etc) at the end of the day, if you love a piece then go for it.   Yours in Art – Donna